別再被誠懇的非洲裔外表所騙了
最近有證據顯示歐巴瑪的確是國王們的人馬。

要不然又無多年政治背景與實力,
名不見經傳的他怎麼異軍突起,
怎麼擺平美國東北與南方白人勢力,
以一名黑人當上美國總統?

現在歐巴瑪繼小布希的腳步與政策
不斷地掏空美國,請問好處歸誰?


美國不斷倒閉的銀行

> 美國只有40%的銀行仍然在獲利(沒有虧損)
> 美國銀行一共1800間左右
> 其中有522間已經向美國民眾儲蓄保障機構FDIC申請援助
> FDIC今年九月的總資產負債表,因為援助130間銀行而呈負值(耗盡子彈)
> 明年若522間都開始出問題,那會怎麼樣?

Get Connected with Ken's Blog
Failing Banks
By Ken McElroy

When I read the recent article about which state will have the most failing banks I must say I was surprised that it was Georgia. There has been so much press on California, Arizona, Nevada and Florida -- but guess what...the number of bank failures in the Southern state is likely to rise, as only 40% of its banks are profitable. Across the country, regulators have closed 130 banks since the beginning of the year. The highest number, 24, are in Georgia, followed by 20 in Illinois, 15 in California and 12 in Florida.
The carnage isn't over yet. According to the FDIC, the number of insured institutions on its problem list, 522, which is the largest in 16 years. The FDIC reports that 50 institutions failed in the third quarter.
In September, the FDIC's Deposit Insurance Fund balance fell below zero (How do you fall below zero…Only the government!) for the first time since mid-1992. To improve the fund's position, on Nov. 12 the FDIC board agreed to require institutions to prepay three years' worth of deposit insurance premiums, about $45 billion, at the end of 2009. The FDIC said the measure would give the agency enough funds to carry on its role of resolving failed institutions in 2010 without increasing assessments on the industry's earnings and capital.
This requirement is just another cash drain on banks which could put more on the FDIC list -- so keep a close watch for 2010. If the fund balance was "out of balance" with just 130 banks -- imagine what could happen when some of the 522 banks on the FDIC list fail.



美國又有七間銀行被迫關門

今年已經累積到140間了

Fred說過,以目前嚴峻的經濟環境下
銀行一開始倒下就停不下來了。
美國倒閉銀行絕對是這次觀察金融海嘯
最重要的數據之一。

Seven U.S. banks closed by regulators; failures at 140
By John Letzing, MarketWatch
SAN FRANCISCO (MarketWatch) -- Seven U.S. banks were closed by regulators on Friday, bring the total this year to 140 as the effects of the credit crisis continued to be felt across the country.
What's more, the Federal Deposit Insurance Corp. established temporary institutions to help close two of the failed banks.

《國際金融》購買美國債,越來越難

美國真的快沒戲唱了,
已經籌不到資產來擔保自己所亂印的鈔票了。

【時報-台北電】鮮少對於美國國債有所發言的中國人民銀
行官員,昨日卻難得的開了「金口」。人行副行長朱民在接
受媒體記者訪問時表示,由於美國經常帳逆差減少,正在縮
減海外美元的供給,外國政府購買美國國債將越來越難。

「路透」報導稱,朱民是在週四(17)受訪時發表上述看法
。在論及對全球經濟總體形勢的看法時,朱民說:「美國目
前的經常帳逆差正在減少,而其居民儲蓄增加,所以其貿易
額在下降。這意味著美國供給國外的美元在減少,而其他國
家也沒有更多的錢去買美國國債了。」

朱民在談及美元的國際角色時指出,美元繼續貶值是不可避
免的,因為美國仍在發行更多國債為財政赤字融資。朱民說
:「美國不可能再要求別的國家將持有的國債再翻一番。」
(新聞來源:工商時報─李書良/綜合報導)


歐巴瑪說:如果不通過健保財政
改革法案,那政府將要宣布破產
如果現在不通過健保財政改革法案,那麼
> 政府要宣布破產,除非…
> 明年各企業開始增收25~30%的健保費。
> 不願意看到這兩種結果,就請讓法案通過。


這根本事「挾天子以令諸侯」、「恐嚇加威脅」!
財富未曾消失過,從「能量不滅定律」可知:
美國健保財政問題根本沒有「真正」被解決,
只是玩弄會計帳目上的花樣來欺騙大眾。

真正的財富不會消失,債務債權也一樣,
美國敢出來混,總有一天要還的,
而且為期不遠了…

President Obama: Federal Government 'Will Go Bankrupt' if Health Care Costs Are Not Reined In
ABC's Karen Travers reports from Washington:
President Obama told ABC News' Charles Gibson in an interview that if Congress does not pass health care legislation that will bring down costs, the federal government "will go bankrupt."
The president laid out a dire scenario of what will happen if his health care reform effort fails.

"If we don't pass it, here's the guarantee….your premiums will go up, your employers are going to load up more costs on you," he said. "Potentially they're going to drop your coverage, because they just can't afford an increase of 25 percent, 30 percent in terms of the costs of providing health care to employees each and every year. "
The president said that the costs of Medicare and Medicaid are on an "unsustainable" trajectory and if there is no action taken to bring them down, "the federal government will go bankrupt."
原文(全)連結:
http://blogs.abcnews.com/theworldnewser/2009/12/president-obama-federal-government-will-go-bankrupt-if-health-care-costs-are-not-reigned-in.html


中國開始拋售美元
其規模之大將舉世震驚。
China's Dumping Of The Dollar Has Begun
Vince Veneziani and Gus Lubin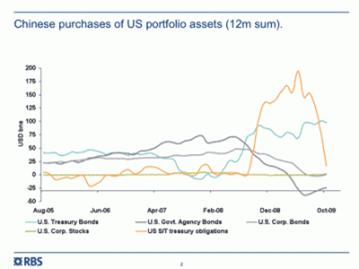 China, once a proud holder of United States post-World War II debt, is getting scared.
For years the People's Republic has bought U.S. Treasuries, eventually becoming the largest holder of U.S. debt ($799 BILLION to be exact!). Those days are long gone, though.
During 2009, China hasn't been buying many Treasuries and has been unloading dollars in a way that makes Geithner shiver at night.
And other big U.S. debt carriers like Japan may follow suit if confidence is lost.
This presentation, courtesy of RBS, takes a deeper look into China's holdings and associated volumes since 2005. Get ready for shock and awe.
http://www.businessinsider.com/china-is-unloading-us-dollars-rapidly-2009-12